V
OLUME
O
NE
K
UNG
F
U
D
IPLOMACY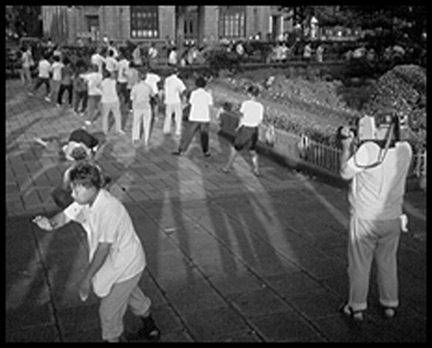 Early morning at the Shanghai bund
DOCUMENTARY FILM - 125 MINUTES
PRODUCT: Volume One -- $49.95 - Item: SKU001
If you don't wish to purchase the DVD format, streaming this title to rent or purchase is available by clicking here.
In August of 1985, a representative group of American martial artists were invited to the Peoples Republic of China by the Beijing Wu Shu Team, the most prestigious wu shu team in the world. In an effort to promote cultural exchange through the martial arts, under the leadership of team captain, Professor Wally Jay and co-captain Al Dacascos, they traveled to Beijing, Shanghai, Xian, and the Shaolin temple in Honan Province, the original birth place of the martial arts, as emissaries of cultural exchange performing their skills for their hosts and observing demonstrations by the greatest masters living in China. American team member's disciplines ranged from Karate, Jiujitsu, Kung Fu to Tae Kwon Do. they traveled to the cities of Beijing, Shanghai, Xian and the Shaolin Temple .

This a one of a kind film. It would be impossible to recreate this film today. We were fortunate enough to have the unique combination of circumstances that came together at a specific point in time. In 1985 the director of the Beijing Wu Shu Team contacted George Xu (Xu Guo Ming) in San Francisco to explore the possibility of assembling a group of American martial artists to visit China to attend and demonstrate at the First International Wu Shu Championships to be held at the city of Xian in central China. In coordination with Brendon Lai of San Francisco, they began contacting martial artists of different disciplines to assemble a team that was representative from the aspects of age, sex, race, type of martial art discipline, and skill level. Their intent was to organize a group that contained some of the most famous martial artists in the United States, as well as normal instructors to participate in a cultural exchange, people to people, with the most famous martial arts of China. As a result of three primary elements: the invitation of the Beijing Wu Shu Team; Brendon Lai's American contacts, and George Xu's access to the most famous martial artists of China; it is unlikely that this film could be recreated.

On their trip, the Americans met with the most famous martial arts masters in China, China's Living Treasures! In addition to the dialog established with these famous masters, they were able to observe the positive health benefits of martial arts that permeate the Chinese people as a whole. They also had the rare honor to exchange and perform with the monks of the Shaolin Temple. In the film the monks perform three sets and also reveal the famous Shaolin Training Hall where monks have practiced for over 1000 years. This award winning documentary of the United States Martial Arts Representative Team's journey through China is also a story of the people of China and their dedication to beneficial health practices and the martial arts. It is the ultimate martial arts documentary!

Custom Search