V
OLUME
F
ORTY

F

OUR

V
OLUME
F
ORTY

F

IVE

W
ILD
G
OOSE
(D
AYAN
) Q
IGONG
-
(Parts 1 & 2)
F
IRST
64 M
OVEMENT
F
ORM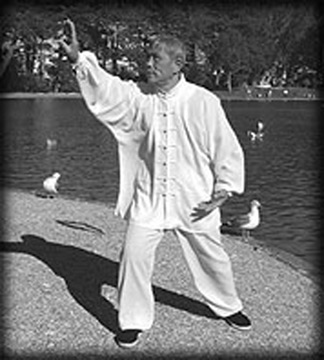 Master Lu Gui Rong
WILD GOOSE (DAYAN) QIGONG (Part 1)
FIRST 64 MOVEMENT FORM
MOVEMENTS 1 TO 34
INSTRUCTION - 59 MINUTES
PRODUCT: Volume Forty-four-- $49.95 - Item: SKU044
Master Lu Gui Rong's journey of the internal martial arts has spanned over 50 years. He is a master of Wu (Hao) taijiquan, Yang taijiquan, and Dayan (Wild Goose) qigong. The first 64 Movement form deals primarily with the "post natal body" and addresses illnesses or injuries that have developed as a result of everyday life. It focuses on the 12 primary channels or meridians, the collaterals, and emphasizes the Ren, Du, Chong, and Dai channels of the body. Dayan Qigong is one of the most popular styles of qigong practised in China due to its accessibility to all ages. Master Zhang Yu of Shanghai was Master Lu's teacher , as well as, a senior student of Grandmaster Yang Meijun of Beijing, 27th inheritor of of Kunlun Taoist Dayan Qigong.
WILD GOOSE (DAYAN) QIGONG (Part 2)
FIRST 64 MOVEMENT FORM
MOVEMENTS 35 TO 64
INSTRUCTION - 72 MINUTES
PRODUCT: Volume Forty-five -- $49.95 - Item: SKU045
This volume continues with the second half of the form. The form repetition segment is divided into five groupings of movements repeated four times each. The entire form is repeated at the begining and end of the tiltle. The movements 34 to 64 are also performed continuously at the begining and end of the form repetition segments.
Custom Search